In sophomore year at UCSC, Rene and I took our first film production class.  For Rene's film in the class, we produced a science fiction action short called Praxis.  This was the most ambitious project we'd attempted at the time (we only had 10 weeks to develop and complete this and my film for the class!). Rene wanted to create a completely artificial universe inspired by futuristic sci-fi like Cowboy Bebop and The Matrix. This required custom props, costumes, locations, VFX, and sound design. Achieved with a budget of just $450, the short also demanded choreographed fighting and a lot of green screen work, all of which came out pretty awesomely in my opinion. Check it out here: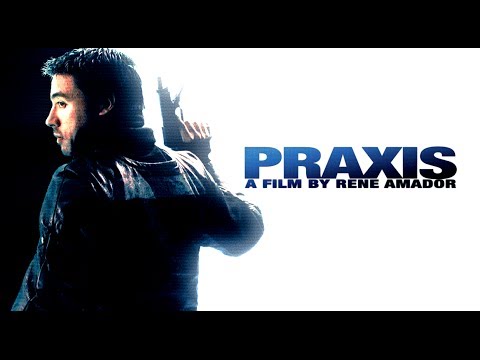 This was one of the first films where we actually did a casting session to find our actors, which was a relief to me as I started to realize that I was better behind the camera than in front of it.  Plus, as we came to learn, working with actors is one the best parts of filmmaking, they add a whole other layer to their characters that go beyond what a writer, director, or editor could ever add.
We heavily pulled inspiration for the first fight from the Cowboy Bebop movie, and Blake & Jake (the actors) practiced with Rene for a week straight to pull it off.  Rene did all the camera work, so even though the fight was only between two actors, the whole sequence involved all four of us: Blake & Jake "fighting" in front of the camera, Rene holding the camera and keeping step with the actors, and me wrangling cables and making sure Rene and the actors didn't trip on wires or get hurt.
We found the cool jacket that Blake/Warrior wears at a second hand shop in Seattle where Rene's dad lived and where he conceived of the short.  I believe it's actually a sniper shooting jacket and it weighed a ton as it was heavy leather, but looks super cool.  Kudos to Blake for wearing it throughout the short and making it look like it didn't weigh a ton while running and fighting!
We shot this in four days, each a half day, one on green screen and the rest in various locations on the UC Santa Cruz campus.  We shot everything on a Panasonic DVX-100 and a Canon GL-2.  Rene did all the visual effects shots, except for the space ship which was done pro bono by a Swiss visual artist, Markus, who we found online.  And the music was by Sid, our composer friend from the Netherlands who we also found online.
I remember when we screened the film for an audience at the end of the class and everyone was silent after it finished before erupting in crazy applause.  I'm guessing it's because you don't expect to see so many visual effects in a student film, but that's how Rene rolls, when he has his mind set on making something happen on screen, it will eventually happen, and it usually is pretty awesome.
What do you think of the film?  We've been told that it's entertaining, is it?  Yay or nay?
This was written as part of my Creator Stories series on video production.  Check out my other posts here:
DISCLOSURE: In order for me to support my blogging activities, I occasionally may receive monetary compensation or other types of remuneration for my endorsement, recommendation, testimonial and/or link to any products or services from this blog. However, I only recommend products or services I have personally used myself and trust.